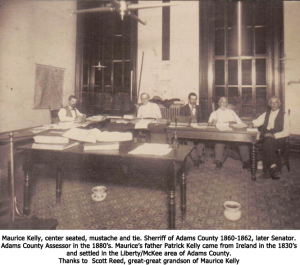 In a little talk with Maurice Kelly, this morning, in The Journal office, we picked up a few scraps of information that were new to us. The writer asked him his age, and he replied: "I went to school within a stone's throw of this place sixty-two years ago." "Where?" we asked, and he replied: "In a house that stood directly back of the Newcomb livery stable." Mr. Kelly told us that his father (Patrick) and his uncle, Capt. Tim Kelly, who was afterwards killed at the battle of Buena Vista, did the first railroad work done in this part of the country. In 1838 they graded a railway track up Front street and from Broadway east as far as Columbus. Winter came on and they went to Versailles, in Brown County, and did a lot of grading on a line running east and west, north of that town. The trains were to be drawn up Front street and let down over an incline. The work was done by the state, and the contractors received pay for their work in state bonds. In 1839 the finances of the state were in pretty bad shape, and in 1840 the state suspended payment and the Kellys had to sell their bonds for whatever they could get. They sold some of them as low as 20 cents on the dollar. Mr. Kelly's older brother was also in the Mexican war, and after the war he lived in Lockhart, Tex., and died there not long since. None of the grading done by the Kellys was ever used for railway purposes. [1]This little article was transcribed from the The Quincy Daily Journal dated August 23rd, 1901.
Maurice Kelly Obituary
Pioneer Is Summoned
Maurice Kelly Dropped Dead This Morning In Store In Liberty
PROMINENT POLITICIAN
Had Held Many Offices in Adams County – Was Sheriff, Revenue Collector and State Senator
Member of Knights of Columbus
Liberty, Oct 5. – Maurice Kelly, one of the best known men in Adams county, died very suddenly this morning about 10:30. As was his daily custom, he had gone to the post-office for his mail and stopped in Campbell's store to rest. He was sitting on a box in the store, when without warning he dropped over dead. Heart failure was given as the cause of death. Mr. Kelly was well advanced in years, being 82 last March, and had grown quite feeble. It was against the wishes of his family that he made the daily trip to the post-office, but he had always been an active man, and was reluctant to give up his usual pursuits. It is supposed that the exertion incident to the walk was too much for the weakened heart, and it was affected as related.
Mr. Kelly was for years one of the prominent figures in politics. In 1862 he was elected sheriff of Adams county and served for two years, when he resigned. In 1878 he was elected to the state senate and was re-elected to subsequent terms until he also resigned from that body in 1885. He was also a member of the first board of review of this county and at one time was revenue collector for this district.
He lived the greater part of his life near Liberty, where he was a farmer for many years. About nine years ago he moved to Mt. Sterling, where he resided until the death of his wife some five years ago, when he returned to Liberty to make his home with his daughter, Mrs. Ed Clark.
He was a prominent and faithful member of the Catholic church, and was actively identified with the Knights of Columbus in Mt. Sterling and has retained his membership in that lodge.
Mr. Kelly leaves surviving him two sons and three daughters. The sons, Tom and Robert Kelly are residing in the West. The daughters are Mrs. Clark with whom he made his home, Mrs. Laura O'Hare of Burton and Mrs. Allie Amen of Columbus. Two nieces, Misses Jane and Nora Kelly reside in Quincy. Joseph Kelly, who left here to accept a position in Portland, Ore., about a year ago is a nephew. [2]Transcribed from The Quincy Herald, Oct 5 1911.
Thank you Scott Reed.