Liberty township lies about twenty miles east-southeast of Quincy on Illinois Route 104.  The first settlers of the township were A. H. D. Butz and D. P. M. Meacham.  Others were Nagle, Wolfe, Hunsaker, Lile and Nations.
Some of the first families to settle in the Liberty area were Buttz, Meacham, Wolfe, Boren, Wagner, Walker, Grubb, Collins, Dudley, Lierly and Xander. Paris Judy laid out the village of Liberty in 1834.
Mr. Meacham opened the first store ever kept in the village, or, in fact, the township, and the first house built was erected by Daniel Lile.  The first marriage in the township was that of Jacob Wigle and Nancy Hunsaker, solemnized by Elder George Wolfe.  The first sermon was preached by George Wolfe, of the Dunkard (German Baptist) denomination in the year 1829, and the first church organization effected was in 1831, which was the establishment of a Dunkard church.  This church was located two miles west of the present village of New Liberty.
The township took up township organization in 1850, with the other townships, and the first supervisor was David Wolfe.  He was succeeded by John I. Adams, John Wolfe, Benjamin Wigle, Benjamin F. Grover, Maurice Kelly, John F. Mercer, Alexander Henry, Samuel Naylor, William Huddleston, Jonas Grubb, A. S. Mintle, John Williamson,  I. B. Roe,  J. B. Wolfe and John Campbell.
The first village, called Montgomery, was organized by Mormons in 1830, one and one-half miles southeast of where New Liberty now stands.  New Liberty (Liberty P.O.) was laid out by Paris T. Judy in 1850.  It has now a population of 300.  There are two general stores, conducted by Pond Bros. and Wagner & Collins; a drug store, of which George D. Mercer is proprietor; a harness shop, a tin shop, two barber shops, three blacksmith and wagon shops, three restaurants and a first-class hotel, the European, under the management of William Breckenridge.  There are five churches:  The Christian, F. Jalageas, pastor;  the Evangelical Lutheran, J. H.  Nesch, pastor; German Baptist, D. M. Brubaker, pastor; Presbyterian, H. Jacobs, pastor; and Catholic, Rev. A. Vollebregt, priest.
Liberty lodge, I.O.O.F., was organized in May, 1860.  The present officers are Charles Baird, N. G.;  John Campbell, V. G.;  Floyd Mercer, secretary; Clarence Pond, treasurer.
Liberty lodge, A. F. and A. M. was organized in October, 1863.  The present officers are Clarence Pond, W. M.;  E. J. Grubb, S. W.;  A. J. Enlow, J. W.;  A. H. D. Butz, secretary;  Zenas Winget, treasurer.
A camp of M. W. A. was organized here in September, 1892.  G. O. Williams is venerable counsel;  J. W. Klarner, worthy adviser;  George D. Mercer, clerk and H. E. Frey, banker.
The Farmers' State Bank of New Liberty was organized July 1, 1903, with a capital of $25,000.  July 1, 1904, it was reorganized as a private bank with a capital of $10,000.  The officers are A. W. Callahan, president;  Amos J. Linn, vice-president;  George D. Mercer, cashier.  The directors are:  Hez  G. Henry,  Frank D. Thomas,  Mrs. Mattie F. Henry, Hon. George W. Dean,  A. W. Callahan, Seldon Slade and James F. Hughes.
The first school house built in Liberty township was on section 10, but the date is unknown.  The village now boasts a commodious, substantial building, erected in 1887, at a cost of $2,600.  At that time the school was reorganized and well graded, and it compares favorably with other schools of the same size in the county. [1]Past and present of the city of Quincy and Adams County, Illinois, p. 329; by William H. Collins, Cicero F. Perry, joint author; John Tillson. History of the city of Quincy, Illinois. [from old … Continue reading
More About Abraham Buttz
Abraham H. D. Buttz first saw the light of day August 10, 1809, in Northampton county, Pennsylvania.
His father, Michael R. Buttz, was a native of Sussex county, New Jersey. He removed to Northampton county, where he carried on milling and merchandise pursuits. He represented Northampton county in the legislature as the Democratic representative for five terms. He was very successful in all his business pursuits. Jacob Buttz, the grandfather of Abraham, served during the War of the Revolution and was with Washington's army as they crossed the Delaware river on that cold Christmas night when the defeated and captured the Hessians.
In 1834 Abraham Buttz came to Adams county and built a saw mill on McKee's Creek, this being the first mill in Liberty township. This property he afterward sold, and removed to Liberty, where he engaged in merchandising from 1836 until 1861. By a strict attention to business he acquired a handsome fortune. He then sold his business to his sons.
Mr. Buttz was married September 13, 1835, to Mary E. Meacham, daughter of D. P. Meacham, who came to Adams county in 1829. She was born July 3, 1819, in Ohio. They had eleven children. Abraham Buttz was Postmaster for thirteen years. Mr. Buttz was a Republican. His wife attended the Christian Church in Liberty.
Liberty Churches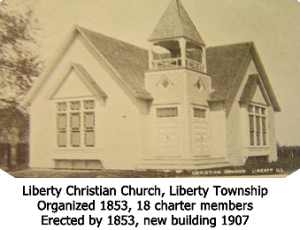 Mill Creek Church – This church, the first in the Liberty area, was established by Rev. George Wolfe in 1831. Mill Creek was a Dunkard Church or a German Baptist church and was sometimes called the Church of the Brethern. Rev. George Wolfe came to Adams County with a small group of church members from the Union County church where they had lived previously. They built a church about two miles west of Liberty. By the early 1870s a new and larger church building was needed and a site was chosen in Liberty. In 1894 the name was changed from Mill Creek church to Liberty Church.
First Presbyterian Church of Liberty – This church was organized in 1852 and a building was soon started. The church was disbanded in 1925.
Zion Evangelical Lutheran Church – This church was organized in 1854. Their services were held in other churches until a building was erected in 1870. A lightning strike started a fire which destroyed the church in 1907. A new structure was built the same year.
St. Brigid Catholic Church – Established in 1847 and a church building was completed about 1870. Before the church was built Mass was said in the homes of the members.
Liberty Christian Church – This church was organized in 1852 with eighteen charter members. Their church was erected by 1853. A new building was erected in 1907.
Liberty Cemeteries
Broady Family Cemetery, Section 28
Clark Family Cemetery, Section 22
Coates Cemetery, Section 3
Drescher Family Cemetery, Section 34
Elmwood Family Cemetery, Section 25
Grubb Family Cemetery, Section 17
Hughes Family Cemetery, Section 22
Liberty Old Cemetery, Section 20
Lierly Cemetery, Section 6
Nation Cemetery, Section 3
Pearce/Pierce Cemetery, Section 26
Pleasant View Cemetery, Section 23
Saint Bridget Cemetery, Section 20
Walker Cemetery, Section 15
Williams Cemetery, Section 15
Xander Cemetery, Section 20
Liberty Schools
Liberty township had many small schools in earlier times, including:
California, Sec 31
Chaplin, Sec 15
East Union, Sec 13
Franklin, Sec 17
Hickory Grove, Sec 27
Liberty, Sec 21
Lost Prairie, Sec 2
Pleasant View, Sec 26
Seigel, Sec 19
In more modern times Liberty students attended the following schools:
Liberty Elementary School
Liberty High School
Miscellaneous History of Liberty Illinois
Paris Judy Biography
Paris T. Judy was born December 4, 1811, in Clark County, Kentucky. His parents were Winepark and Anna Judy. Paris Judy came to Adams county about 1834. He taught school in Quincy for a short time. Later he acquired land in Gilner township where he farmed and raised stock.
He married Nancy Markwell. Nancy was born July 30, 1817, in Fleming County, Kentucky. They had seven children: James M., Adelia A. (wife of William Finlay), Rebecca E. (wife of M. B. Taylor), Xantippe (wife of L. E. Finlay), Sarah N. (wife of William Creswell), Ida K. and Mandolia Judy.
Paris Judy was the first Justice of the Peace in Liberty township. Although he laid out the village of Liberty, Paris Judy lived in Gilmer township.
Electricity
The Liberty Electric Company began operation in 1919 with a capacity of 10 kilowatts. Subscribers could count on having electricity available from 4 to 11 p.m. daily and some days the hours of service was extended.
Liberty Chapter of the Order of the Eastern Star, established 1898
Order of the Eastern Star Worthy Matrons 1898-1916

| | |
| --- | --- |
| Worthy Matrons | Worthy Patrons |
| 1898 – Mattie McBride | 1898 – S F MCBride |
| 1899 – Mattie McBride | 1899 – S F McBride |
| 1900 – Sadie Butts | 1900 – S F McBride |
| 1901 – Ella McBride | 1901 – George Mercer |
| 1902 – Lela Enlow | 1902 – George Mercer |
| 1903 – Katie McBride | 1903 – S F McBride |
| 1904 – Lizzie Mercer | 1904 – S F McBride |
| 1905 – Fannie Browning | 1905 – George Mercer |
| 1906 – Amanda Tourney | 1906 – Zenos Winget |
| 1907 – Roas Winget | 1907 – Zenos Winget |
| 1908 – Stella Grubb | 1908 – Ernest Grubb |
| 1909 – Ethel Richardson | 1909 – George Mercer |
| 1910 – Bertie Noftz | 1910 – George Mercer |
| 1911- Fannie Browning | 1911 – George Mercer |
| 1912 – Ethel Richardson | 1912 – E J Grubb |
| 1913 – Bertie Noftz | 1913 – Lee Enlow |
| 1914 – Bertie Noftz | 1914 – E J Grubb |
| 1915 – Julia Pond | 1915 – E J Grubb |
| 1916 – Myra Wheat | 1916 – Lee Enlow |
Alfred Walker Biography
Alfred Walker was born February 27, 1820, in Tennessee. The family moved to Union County, Illinois. In 1830 they came to Adams County and settled in the Liberty area. Alfred, a farmer, married Elizabeth Strahan August 27, 1843. She was born July 11, 1820, in Kentucky. The Walkers had four children: Charles W., Sarah J., Sarah A. and Catherine E. Catherine died May 29, 1863 at age 20. The Walkers were Democrats and attended the Dunkard Church.
First Marriage
The first marriage in Liberty township took place on February 7, 1828, when Jacob Wigle and Nancy Hunsaker were wed. Rev. George Wolfe performed the ceremony.
First Postmaster
John Norton was the first Postmaster of Liberty when the Post Office was established in 1834.
Undertaker
Charles Karney, undertaker, was born October 18, 1823, in Warren county, Ohio. In 1857 he came to Adams county, Illinois. In 1865 he removed to Liberty and engaged as carpenter amd joiner. He married Ann E. Tickener in 1848. She was born in 1817 in Warren county, Ohio. Mr. Karney was a Republican and a Prebyterian.
Coffins By Kuntz
John Kuntz, manufacturer of wagons and coffins, was born April 25, 1841, near Pittsburg, Pennsylvania. When a child, he came with his parents to Quincy, Illinois. He enlisted in 1862 in Co. E, 78th Regt. Ill. Inf. and served until the end of the Civil war. Then he went to Kingston, Illinois, and commenced his business. In 1870 he removed to Liberty. He married Mary Lentz Sept. 5, 1865. She was born in 1846 in Adams County. They had five children, Katie, Frederick, William, Emma and Anna. Anna died in infancy. They were Republicans and attended the Methodist Church.
Lewis Boyer
Lewis Boyer, a Democrat, was a U.S. Representative from Illinois. He was born in Adams County May 19, 1886. He taught school for a short time in Liberty. He served the 15th Illinois District in Congress during the 1937-1939 term. Boyer died March 12, 1944. He was buried Xander Cemetery.
Frey Family
William Frey was born in LeHigh county, Pennsylvania in 1830. He came to Illinois and located in Liberty in 1856. He first worked in a mill. He was married October 27, 1872, to Martha C. Heckrodt. Martha was born in Adams County February 16, 1854. They had three children: Cora Ann, Effie May and Malinda. Mr. Frey purchased 108 acres of land in Section 19 of Liberty township. He farmed part of it, raised cattle, sheep and hogs and also had a large apple orchard. The Frey family attended the Lutheran Church in Liberty.
Zachary Lierly
Zachary Lierly, a Revolutionary War veteran, was among the early settlers in the Liberty area.
William Vancil Biography
William Vancil was born April 19, 1822, in Union County, Illinois. In about 1835 he came with his parents to Adams county. William, a farmer, married Mary Ann Tourner November 26, 1845. She was born September 17, 1825, in Belfort, France. The Vancils had the following children: Jno. W., Henry M., Julia Ann, Elizabeth C., Joseph R. and Calesta.
Montgomery – No Longer Exists
Montgomery, which was located about 2 miles southeast of Liberty in Adams County, was established about 1830 by a group of Mormons fleeing their homes in Kirtland, Ohio.
Abraham Buttz acquired the land, chased the Mormons away and destroyed the buildings they had erected.